HOW BIG SHOULD A DINING ROOM RUG BE?
What Size Rug Under Dining Table
The least space or extra room left on all the four sides of the dining table is 24 inches.
Enough room will allow the chairs to be moved in and out of the dining table without getting off the rug.
That will protect the rug from damage and also make the guests or your family members more comfortable during eating hours.
The wrong placement….
When you look at the image above, do you notice that the legs of some chairs are outside the rug?
That can cause three problems;
Damage of the rug: When a person pulls in the chair towards the dining table, the back legs which are slightly outside the rug will cause bunching up of the edges leading to strain on the rug fibers and eventually damage on them.
Discomfort: The front legs of the chairs will be a little raised since they rest on the rug while the back legs will be on a lower level since they are outside the rug. That will strain the sitting position of anyone using that chair. Additionally, one does not have the freedom to move the chair around with ease.
Slip accidents: The back legs of the chair can easily catch on the rug fibers causing slip and fall accidents. The rug edges can also cause the same accidents. This is true especially in homes with crawling babies, pets and elderly people.
Rug bumps and creases: The on and off movements of the chairs out of the rug will cause rug migration which will eventually result into rug bumps, creases and wrinkles which can be very expensive and tedious to remove. You can also check this related guide on how to keep rugs in place when they are not anchored down by anything.
The right placement….
It is more advisable to buy your dining room furniture before you buy a rug so that you can get a rug which is the correct size.
The rule of thumb is that all the legs of the chairs should slide in and out freely while they sit comfortably on the rug as shown in the Image below;
---
Dining Table Rug Size Chart
---
What Size Rug For a Table That Seats 6?
| | |
| --- | --- |
| 6-Chair Rectangular dining table | 8 x 10 feet Rectangular rug or Round rug |
| 6-chair Oval dining table | 9 x 12 feet  Oval or Square rug |
---
What Size Rug For a Table That Seats 4?
| | |
| --- | --- |
| 4-chair Round or Square dining table | 8 x 8 feet square rug or a round rug of 8 feet diameter. |
| 4-chair Oval dining table or a Rectangular dining table | 8 x 10 feet oval rug or rectangular rug |
---
What Size Rug For a Table That Seats 8?
| | |
| --- | --- |
| 8-chair Rectangular dining table | 9 x 12 feet rectangular rug or Oval rug |
---
What Size Rug Under a 48 Round Table?
You will need a rug which is larger by at least 48 inches for a 48-inch round table. That leaves you with rug sized below;
A round rug with 8 feet diameter

A square rug of 8 x 8 feet

A rectangular rug of 8 x 10 feet
---
What Size Rug Should Go Under a Round Dining Table?
On a round dining table, you need a rug which is at least 24 inches larger than the table on all four sides to allow easy movement of the chairs.
For instance, below is an image for a sample of a square rug under round dining table size guide;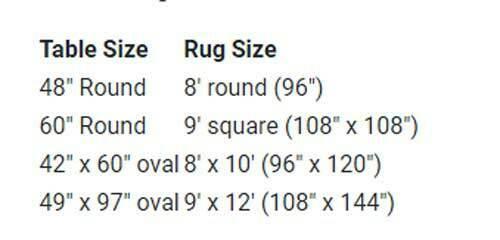 ---
Dining Room Rug Size Calculator
Guessing is not recommended when deciding what size of rug you need because you can end up with;
One, a very small rug which will look like your dish cloth or table cloth fell on the floor. It might also look like an attempt to cover up a stain or scratch on your floor.
Two, a very large rug will make your home feel crowded and it will overshadow other elements of your home décor like beautiful flooring.
Choosing the right size of rug will also eliminate slip and fall accidents likely to be deadly to old people, babies and pets.
That is why you need a rug size calculator to avoid  the mistakes above.
---
HOW BIG SHOULD A DINING ROOM RUG BE? FAQ'S & FINAL THOUGHTS
How Do You Measure For a Dining Room Rug?
Start by measuring the size of the table.
Next add 16 to 34 inches on all sides of the table measurements.
The number you choose in the range above will depend on the amount of space you want to leave around the dining table after the chair comfortably rest on the rug.
For instance, for most dining room rugs, a space or 18 inches or 24 inches will work with most dining tables.
Watch the video below for a more practical guide on how to do this!
---
What Type Of Rug Is Best For Dining Room?
The two safest rug choices of a dining room are; Flat-weave rugs or low-pile rugs.
Both are easy to clean and maintain because we cannot ignore the fact that the area around the dining table is prone to spills and other forms of dirt.
Additionally, both are durable such that they will withstand wear and tear likely to be caused by the moving chairs and guests or family members.
AVOID: Fluffy or thick rug in this space because they are hard to clean and they will hide food particles causing development of rug moths or pungent smells on your rugs.
---
Our Top Recommended Rug Under Dining Table
It is made from cotton: This is a very durable and easy to clean rug material for high traffic places. The dining table is a high traffic area which makes this rug an ideal choice.
Hand-woven: Handmade rugs are often very durable and unique. That means this rug will serve you for many years. Discover which country makes the best rugs , especially those which are hand-woven on that post.
Farmhouse checkered design: This patterned design makes this rug easy to blend with many home décors patterns. It also makes this rug versatile such that apart from the dining area, it can also be used in outdoor spaces, living rooms, kitchen,  laundry rooms, entryways and bedrooms among other spaces in your home.
The fabric: It comes in several color shades-blue, white, grey, red, blue and black among others. The fabric is also non-fade, durable and easily washable.
Grace period: After you buy with rug, you shall have a 30-days money back guarantee period where you are allowed to return back the rug if you don't like it.
---
Should You Put a Rug Under a Dining Room Table?
To some people that is a no no because they would assume that keeping such a rug clean would be too much work.
Personally, I think you should add a rug under a dining room table as long as the space is not crowded and it feels right.
A rug will beautify your home, add warmth and also make your guests feel more welcome and comfortable in your home space.
Read this post should you put a rug under a dining room table to discover the pros and cons of using a rug under a dining table.
---
Rule of Thumb for Rug Under Dining Table
When it comes to size, the rule of thumb is that the rug should be big enough such that all four legs of the chairs can be pulled out without reaching the rug edges or getting off the rug.
In terms of the rug pile, flat-weave or low pile rugs are more recommended than high pile or fluffy rugs which are easier to clean.
This rule of thumb for rug under dining table has more than 6 rules you should remember when choosing dining room rugs.
---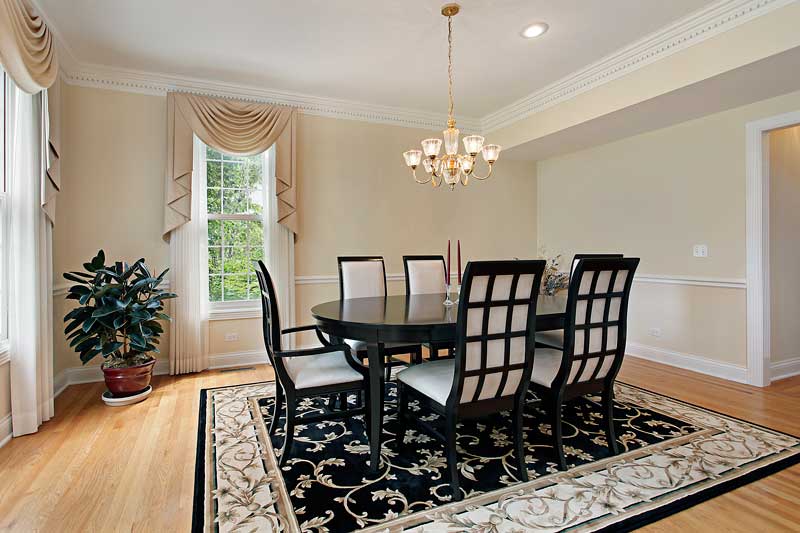 Alternative To Rug Under Dining Table
Sometimes your budget might be low such that you are not able to afford a high quality rug. In such cases, you can use cheaper replacements.
Other times, a rug might not blend well with your existing home décor. You might need another alternative to complement your design in such a case.
Check out these 7 alternatives to rug under dining table to find an option which might be great solution is the two scenarios above.
---
Pictures Of Rugs Under Dining Room Tables
---