Pictures Of Rugs Under Dining Room Tables
Sometimes you do not know what kind of rug is best for your dining table. These pictures will give you some inspiration on the kind of rug which looks best in such an area.
Other times you might be reluctant to get a rug because you not sure how it will make your home look. Here are some pictures of rugs under dining table which will paint a picture in your mind of how a rug can transform your home.

What Is The Best Rug Under Dining Table
EARTHALL Cotton Buffalo Checkered Area Rug
It is made from cotton: This is a very durable and easy to clean rug material for high traffic places. The dining table is a high traffic area which makes this rug an ideal choice.
Hand-woven: Handmade rugs are often very durable and unique. That means this rug will serve you for many years. Discover which country makes the best rugs , especially those which are hand-woven on that post.
Farmhouse checkered design: This patterned design makes this rug easy to blend with many home décors patterns. It also makes this rug versatile such that apart from the dining area, it can also be used in outdoor spaces, living rooms, kitchen,  laundry rooms, entryways and bedrooms among other spaces in your home.
The fabric: It comes in several color shades-blue, white, grey, red, blue and black among others. The fabric is also non-fade, durable and easily washable.
Grace period: After you buy with rug, you shall have a 30-days money back guarantee period where you are allowed to return back the rug if you don't like it.
---
Should You Put a Rug Under a Dining Room Table?
Yes and No.
Yes, if the putting a rug feels right, looks great and compliments your existing home décor elements.
Additionally, a rug serves both aesthetic and physically purposes in your home, such as protecting your floors and beautifying the space.
Read this post for more; should you put a rug under a dining room table?
Rule of Thumb for Rug Under Dining Table
What are the rules you should consider or follow when choosing a rug for under dining table area? Below are the main factors;
Size: An ideal rug should be 20-30 inches larger than the table on all four sides.
Shape: If your dining table is round, then a round rug should be the best choice. The shape of the dining room will also help you choose the right shape.
Pile: Choose low pile or flat-weave rugs over high pile fluffy rugs.
Decor: The rug should complement wall, curtain, furniture designs or color hues.
Read this detailed post on the rule of thumb for rug under dining table to understand the factors above more and also get other rules you should follow.
Alternative To Rug Under Dining Table
What if you cannot afford the right rug, are there cheaper alternatives you can use?
What if the rug does not fit in your existing home décor patterns and theme, are there substitutes you can use instead?
Buying a rug is not always a do or die situation. Sometimes, substitutes like floor clothes, mats or carpets would work better.
Read this post on alternative to rug under dining table to discover 7 stand-in's or replacements you can use instead of a rug.
Pictures Of Rugs Under Dining Room Tables
---
---
---
---
---
---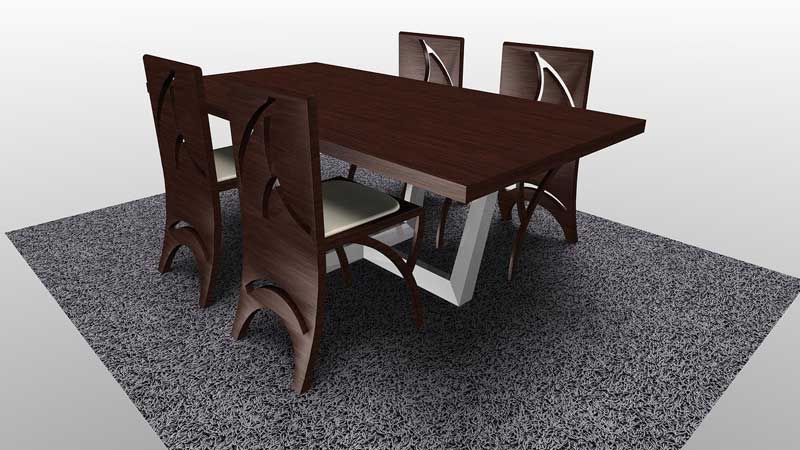 ---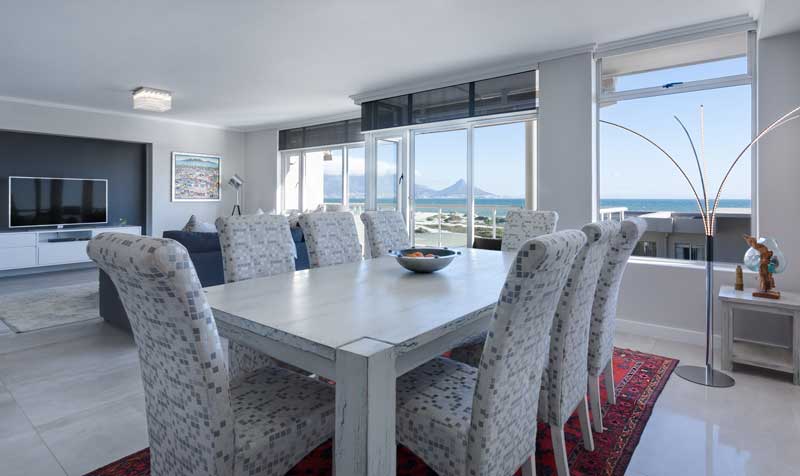 ---
---
---
---
---
---