Alternative To Rug Under Dining Table
Alternative To Rug Under Dining Table
What are the alternatives to rugs under dining table?
In other words, what else can you place under a dining table other than an area rug.
Maybe you cannot afford a rug and that is why you are looking for cheaper options like the ones below.
Other times, it could be that you do not like rugs because they are hard to clean, and that is why you are looking for alternatives.
Whatever your goal is, we got you covered in this post where we shall explore 7 alternatives to rugs under dining table.
---

Best Rug Under Dining Table
EARTHALL Cotton Buffalo Checkered Area Rug
It is made from cotton: This is a very durable and easy to clean rug material for high traffic places. The dining table is a high traffic area which makes this rug an ideal choice.
Hand-woven: Handmade rugs are often very durable and unique. That means this rug will serve you for many years. Discover which country makes the best rugs , especially those which are hand-woven on that post.
Farmhouse checkered design: This patterned design makes this rug easy to blend with many home décors patterns. It also makes this rug versatile such that apart from the dining area, it can also be used in outdoor spaces, living rooms, kitchen,  laundry rooms, entryways and bedrooms among other spaces in your home.
The fabric: It comes in several color shades-blue, white, grey, red, blue and black among others. The fabric is also non-fade, durable and easily washable.
Grace period: After you buy with rug, you shall have a 30-days money back guarantee period where you are allowed to return back the rug if you don't like it.
---
7 Alternatives To Rug Under Dining Table
#1 Floor cloths
This is a type of canvas used for different uses. It can used for cleaning floors.
Sometimes it can also be used by painters to block paint dripping from the wall from getting into the floors.
When its well painted it can serve the same purpose of a rug under a dining table.
You can use double sided tape to fully stretch the floor cloth out and keep it in place under the dining table.
---
#2 Floor Mats

There are many types of mats like bath mats used in bathroom, doormats used in entryways and kitchen mats used in the kitchen.
A mat is simply a flat piece of fabric which is smaller than a rug.
You can place several mats under the dining table as an alternative to rugs.
For instance, if your child is a messy Eater, you can place a mat under their chair to prevent the food drops from falling directly on the floor.
That way you will simplifying the cleaning process since you will just fold the mat then shake it off outside on in the dustbin.
Since the dining chairs get moved a lot, you can place floor mats like this one to protect the floors from getting scratched or damaged.
---
#3 Wall to wall carpets
A wall to wall carpet covers the whole floor in your home.
That way you will not have to worry about buying a rug for under dining table because the carpet will serve similar uses.
If you decide to put rugs on top of this type of carpet, you can read this guide on how to secure rugs on top of carpets securely.
If you want to remove bumps or any other bunching up movements on the carpet, check out this guide.
---
#4 Knitted or crotched fabric
A crotchet rug is a diy (do it yourself) type of rug made by interlocking loops, thread and yarns using a crotchet hook.
The difference with a knitted rug is that long needles are used to create stiches holding the loops of a knitted rug together.
If you have amazing crocheting or knitting skills you can make a small rug to place under your dining table.
---
#5 Cork
This is a type of material harvested from the bark of oak tree.
It is mostly used to make wine stoppers because it has elastic and fire-retardant properties.
You can assemble small pieces of cork, then glue them together on top of a rug pad to create an improvised cork rug.
---
#6 Throw blankets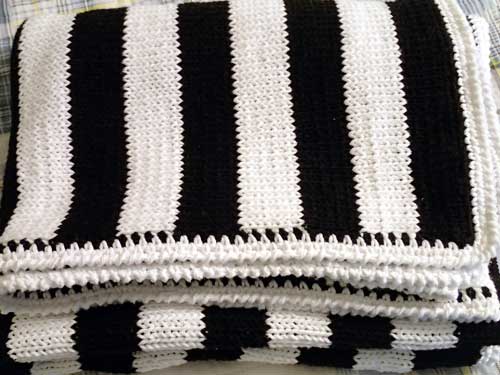 A throw blanket is a piece of fabric which is smaller than the normal.
It has many uses like being draped on chairs and bed ends.
Some people also use it to cover themselves up when they are relaxing on the couch.
Old throw blankets can be used as floor rugs placed under a dining table.
---
#7 Carpet cut-offs & remnants

If you have an old carpet which you do not use anymore, you can cut it to fit the shape of your dining table. In other words, you can transform that carpet to a rug under dining table.
You can also go to companies who manufacture rugs and carpets then you buy remnants which you can glue together or match up in an open floor plan to make a rug under dining table.
---