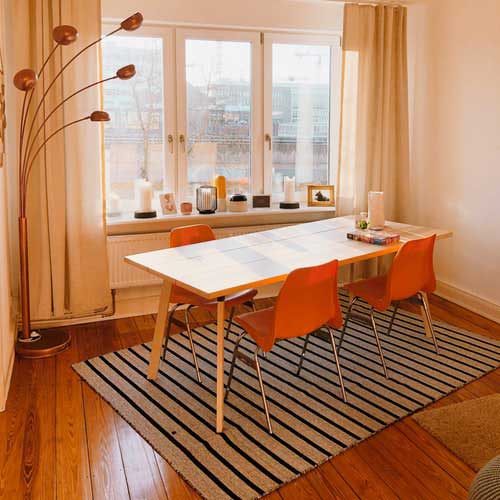 What is the best rug for under kitchen table?
I know you are looking for an answer to that question and I can guarantee you that you came to the right post. Therefore, read on to discover the answer.
The area under a kitchen table is exposed to lots of foot traffic, which means you will need a durable rug material.
Additionally, this area is prone to spills which means the rug will get dirty easily. In that case you need a rug material that will be easy to clean.
---
SHOULD I PUT RUGS UNDER MY KITCHEN TABLE?
There is no definite answer to this question, thus, I will explore both possibilities of yes and no.
Yes, it is a good idea to put rugs under kitchen table because:
A rug will help you attain a good, stylish and classy look in a given space. Rugs add color and contrast to your existing home décor.
A rug will help to protect your floors from damages caused by pet scratches, spills, kids messy eating patterns, and other accidents likely to occur. This is specifically, a great advantage when you have hardwood flooring in your kitchen.
Pro Tip: Now that I mentioned pets and kids above, you can check out these posts also: Best rugs for dogs that pee, chew, scratch and shed or this one on best rugs safe for crawling babies.
Not all rugs are hard to clean, some are very easy to care and maintain even if they are put in high foot traffic areas or dirt-prone spaces in your home.
A rug will add warmth and comfort to your underfoot, which will make you enjoy your meal more and even stay longer for a family talk after eating.
On the other hand, there are several disadvantages of putting a rug under a kitchen table. For example, it tends to get dirty quickly or even worn out faster due to the weight exerted by the chairs, table, pets and your family members.
For that reason, you must wisely choose a rug best for this area to make your life a lot easier. Check out the recommendations we offer below.
In addition, you must practice the rug protection measures offered below to prolong the lifespan of a rug put under a kitchen table.
---
WHAT TYPE OF RUG IS BEST FOR UNDER KITCHEN TABLE?
The best choice to go for when choosing a rug for under kitchen table are rugs branded as "OUTDOOR RUGS".
Below are some of the best outdoor rugs you can shop today;
3 best rugs for under kitchen table
#1 Smart Design Outdoor Rugs

This rug comes in a double weave, a property which makes it reversible. This means when one side gets dirty, you can flip the rug over to the other side to hide the dirt or stains before you clean up the rug.
This rug is made from a low pile, a feature which makes it easy to clean.
The fact that you can easily fold this rug without destroying its fibers makes it easy to carry it around. This can be a way to make the rug multi-purpose.
It comes in many color shades like blue, green, white and grey which will blend with any existing home décor patterns.
Finally, this rug is still very affordable because you get high qualify features for less than $100.
#2 NuLOOM Lefebvre Braided Outdoor Rug
This rug is described as "kid and pet friendly and perfect for high traffic", all which are features that make it highly durable especially when placed in a busy place like under the kitchen table.
It comes in a braided design which will add style and a beautiful look to the space where the rug is placed and even blend so well with the entire home décor.
Comes in neutral color pallets which will match with any existing décor patterns and styles without having to spend extra money to perfect the design.
Cleaning this rug is very easy through spot cleaning with a mild detergent or vacuuming it up.
The rug is made from Polypropylene material which is usually very durable and highly recommended for rugs placed in high foot traffic areas.
#3 Nanta Cotton Buffalo Plain Check Rug
It comes with a similar patter and design doormat, which means you will not spend extra money buying an entryway mat or rug.
It is made from cotton material which is usually durable, water resistant, warm and easy to clean making it an ideal choice for under kitchen table.
The soft fibers will make the underfoot warm, comfortable and less tired when sited on the dining table even for longer periods of time.
It comes in a beautiful farmhouse and modern décor which will make your home look stylish, classy and expensive.
WHAT TO LOOK FOR
In summary, when shopping for a rug for under kitchen table, look for the following;
Rugs branded as "outdoor rugs", or "outdoor-indoor rugs".
Rugs described as ideal for high foot traffic areas, kid-friendly and pet-friendly.
Low pile rugs
Easy to clean rugs
A rug material resistant to water, stains, or moths.
RUG TO AVOID
Avoid flat-weave rugs because the high foot traffic will damage them easily.
Natural rugs are durable but they are not a wise choice for under kitchen table for two reasons. One, if your kitchen is exposed to direct sunlight like mine, the fibers will end up discoursed and worn out. Two, natural fiber rugs, especially the braided ones have many cracks and crevices. Food crumbs and dust particles will easily get through those spaces. The dirt debris will end up damaging your rug and floors while the food particles can attract rug moths and bad rug smells.
Do not go for a rug with a very busy pattern because the area under the kitchen table is too small to even make that pattern blend out with your entire home décor.
Shag rugs are not ideal because they have a high pile which will tend to high food particles and other forms of dirt making cleaning hard.
---
HOW DO YOU PROTECT A RUG UNDER A KITCHEN TABLE?
Invest in a vacuum
No matter what you do, food particles will always drop on the rug under a kitchen table. For that reason, having a simple hand-held vacuum cleaner like that one will help you to vacuum up the rug regularly before the crumbs and debris get deeper into the rug fibers. You will also need a mild carpet/rug cleaner detergent for spot cleaning the rug to remove any stains left by the food.
Use Furniture protectors
The chairs or table placed on the rug will often be moved back and forth several times. That movement can damage the rug fibers especially if you are using chairs with metallic stands. To prevent that damage, make sure you put felt protectors on the furniture stands.
Add Mats for messy kids
You can throw a mat on top of the rug in spots where younger and messy kids eat from. A mat is easy to clean in a washing machine or simply shaking off the particles outside after the kids are done eating.
---