CAN YOU VACUUM COWHIDE RUGS?
What are Cowhide Rugs?
A cowhide rug is made from the skin and hair of cows.
Vegetable tanning and chrome tanning are the two methods used to cure cowhide rugs during their making process.
These two methods help to create a rug which is durable and soft.
Some cowhide rug manufacturers use the over-dyeing process to produce cowhide rugs with more elaborate prints.
What are the Benefits of Cowhide Rugs?
They give a countryside look
Most people who love a home environment with a rustic or organic look with often go for cowhide rugs.
They are long lasting
Cowhide rugs are made from leather which is mostly created out of animal skin, a feature which makes such rugs enduring even when used in high traffic areas.
The thing about cowhide rugs is that they are very durable and easy to clean because they are stain-resistant.
Read this post on how long do cowhide rugs last to get more information about this property of cowhide rugs.
They are Hypo-allergic
 These rugs are an ideal choice in a home with allergy sufferers because they are made from natural materials which are environmentally friendly.
They are Easy to Maintain
If you read the section below on how to clean a cowhide rug, you will notice that it's very easy to maintain the look of such rugs with simple washing methods like spot cleaning and vacuuming.
Can you Vacuum Cowhide Rugs?
Yes, you can vacuum cowhide rugs too keep them looking new and attractive.
Vacuuming cowhide rugs regularly is highly recommended, as long as you remember the following;
Only vacuum cowhide rugs with the suction only.
If your vacuum has a beater brush, it should be turned off to prevent hair shedding.
If your vacuum does not have the suction or the option to disable the beater brush, then use the vacuum's upholstery attachment when vacuuming a cowhide rug.
Always vacuum is the same direction of the hair in the rug to prevent shedding. In most cases, that means vacuuming from the middle of the rug while you move outside towards the edges of the rug.
For full effectiveness in the cleaning process, make sure you vacuum both sides of the cowhide rug.
Robot Vacuum on Cowhide Rug
I recommended you check out this iRobot Roomba Robot Vacuum because;
Its multipurpose because apart from using it on your rugs or carpets, you can use it on floors, furniture and curtains.
It has a three-stage cleaning process (loosening, lifting and suctioning), which makes it effective for multiple surfaces and items.
It can be easily programmed and scheduled to clean independently without your involvement based on your home needs.
It will automatically recharge itself, which makes this vacuum more convenient.
---
HOW TO CLEAN A COWHIDE RUG
You must remember the following when cleaning a cowhide rug:
Avoid over-soaking your cowhide rug with water because they can change shape when they dry.
If your cowhide rug gets too much water moisture, make sure you take it outside on the sun to dry and also kill bacteria likely to be a bleeding place for rug moths.
Do not keep the rug in direct sunlight if it's so hot to keep it from fading in color.
After the rug is dry, stretch it out as you follow professional recommendations to restore it to shape.
1. Shake It Out
If you just want to remove simple dirt, dust and debris from your cowhide rug then shaking all that off maybe the way to go.
If the rug is small, simply fold it in a way that you can carry it outside, then shake off the dirt.
If the rug is too large to shake, take it outside then hang it on a clothesline, fence or railing.
Look for a strong stick like a broomstick then beat the dirt and debris out of the rug gently.
Alternatively, you can take the rug outdoors on a flat surface like the deck or balcony then sweep off the dust or debris with a gentle brush, broom and dustpan.
2. Vacuuming
Vacuuming is one the methods recommended for cleaning cowhide rugs.
You must follow the tips discussed above on this section, can vacuum cowhide rugs for the best results.
For more tips on how to buy the best vacuum cleaner for other types of rugs in your home, check out the two posts below;
3. Steam Cleaning
After you vacuum your cowhide rug, you can give it a steam clean for deep cleaning and to kill bacterial and other micro-organisms.
You must make sure you steam clean the rug in the same direction of the hair to avoid hair loss.
You cannot get the rug too saturated with water or moisture because cowhide rugs have low water tolerance. They also tend to change shape due to water and are generally hard to dry.
Make sure your cowhide rug dries completely before using it again after the steam cleaning process.
For more tips on this, read this post can you steam clean a cowhide rug.
NOTE: If the cowhide rug has a stain, you can apply eucalyptus oil on the stain first before following the cleaning process above. The oil will help to dissolve the stain fibers making them easy to clean.
$29.99
$35.99
in stock
as of December 3, 2023 12:42 pm
$44.99
in stock
as of December 3, 2023 12:42 pm
$90.00
in stock
as of December 3, 2023 12:42 pm
$244.80
$459.00
in stock
4 new from $244.80
4 used from $227.99
as of December 3, 2023 12:42 pm
4. Spot Cleaning
Let say you do not want to clean the whole cowhide rug, all you want is to remove some stains or dirt in specific areas, then spot cleaning is the best method to do that.
For example, follow the steps below if you are looking for tips on how to clean dog pee out of a cowhide rug;
For more tips on using rugs on a home with dogs, I recommended you check out the two posts below;
Follow the steps below when spot cleaning cowhide rugs;
Step One:
If the stain is still wet, take a clean dry towel then place it on the spot to bloat out any excess liquid.
If the stain is dry, start by removing solid residual by sweeping with a brush or gently scratching with the edge of a spoon.
Step Two:
Pour some warm water (not hot) preferably using a spray bottle on the stain.
Use a cloth to bloat out the soiled area repeatedly until the stain is gone.
NOTE: If the stain is deep, you might need to use some soap specifically made for cowhide rugs to dissolve the dirt making cleaning easy. Check out this cowhide cleaner soap for that job.

For more tips on how to clean other types of rugs in your home, check out the posts below;
---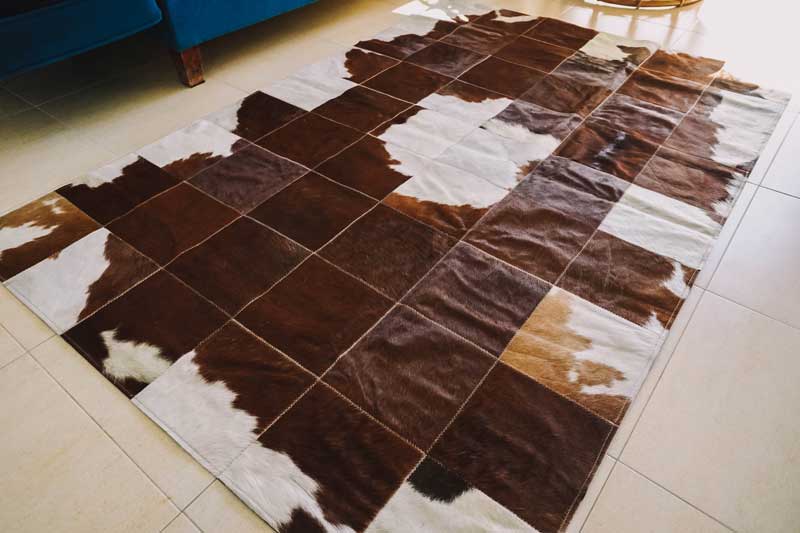 COWHIDE RUG CARE
#1 Regular Moving
One way to keep your cowhide rug looking new and ensure that it wears evenly, is by moving the location of furniture or any other objects placed on it from time to time.
#2 Regular cleaning
Whether you choose to clean your cowhide rug by spot cleaning, vacuuming or steam cleaning, you must do it regularly like twice every week to keep them fresh and new.
#3 Proper storage
When you are not using your cowhide rug, its advisable you store it properly in a cool, dark and dry place. The storage place must be well-ventilated to keep away problems related to mold, mildew and rug moths. If possible, you can even cover up the rug with a wrap or sheet to keep it away from excess dust and direct sunlight. Read this guide for more tips on how to store a cowhide rug.
#4 Dry completely
Make sure you dry away any excess water to keep away mold, mildew and other pungent smells on your rugs. Read this guide on what to do when your cowhide rug smells bad.
#5 Clean immediately
Always clean any mess created by spillages immediately after they occur to keep away permanent stains which are hard to remove.
#6 Never machine-wash
You can never clean cowhide rugs in the washer or dry cleaner.
#7 Stretch correctly
In case, your cowhide rug has creases or folds after drying, read the two guides below to know how to remove such.
#8 Talk to professionals
Sometimes your cowhide rugs might have stubborn stains that will not go away even after using all cleaning methods recommended on this post.
In such as case look for help in professional cowhide rug cleaning near me dealers who can help to clean your rug properly without causing any damage to it.
---
Last Amazon price update was: December 3, 2023 12:42 pm