Persian rugs are very different from other types of rugs because they are costly. Additionally, they are very delicate, which means they can easily get damaged if you do not use a vacuum for delicate rugs.
You might have inherited your Persian rug from a friend, or it was passed to you from a previous generation, and that should give you more reasons to look after it more carefully and keep it looking sharp and clean.
Persian and oriental rugs are lovely, and they thy often make your home look stylish, expensive, and give it a high-end home décor touch. However, keeping them that way can be tricky, and that is why you need this guide to know how to choose the best vacuums for oriental rugs.
Persian rugs are also handmade, which makes them more delicate.
Some Persian rugs area are colorfast, which means you can run into color pouring problems if you do not handle their cleaning with care.
You can also check the guides below on how to:
---
Last Amazon price update was: December 3, 2023 2:53 am
THE 5-BEST VACUUM FOR ANTIQUE PERSIAN RUGS
1. Kenmore Elite 21814
The Kenmore Elite 21814 is a canister vacuum system which comes with multiple attachment tools and swivel head. The advantage of this feature is that it makes this vacuum multi-purpose and ideal to use to clean almost all areas, surfaces and materials in your home including your Persian rugs.
It has a 2-motor system which makes cleaning very efficient on different floors or materials. For example, if you switch from hardwood to carpet floors, the crossover floor nozzle will automatically switch. The same will happen when you move from one rug material to the next.
It has an alert system controlled by the LED lights which illuminate when the bag is full or when you need to stop the vacuum. You can use this to control the process of cleaning your Persian rug to avoid damaging it.
It has an active filter system that will trap almost 99% of debris, stubborn pet hairs, and allergic pollutants trapped in your Persian rug.
It comes with additional accessories and tools, such as dusting brush, fan sweeper, crevice tool, and floor tool, among others, which will make your vacuuming easy and efficient.
The noise level is average which means you will not worry about causing noise pollution.
---
2. Hoover WindTunnel MAX UH30600
The Hoover WindTunnel MAX UH30600 is the best choice when you want to vacuum large Persian rugs, carpets and floor due to following features;
Firstly, it has a 30-foot power cable which is long enough to cover a large room without adding extra power extensions or cords.
Secondly, its cleaning nozzle is 15 inches wide, which means you can clean large areas in one pass without having to move around too much.
Finally, its WindTunnel nose can stretch to maximum heights to reach stairs, curtains, and windows, among other high height areas.
It has a headlight mounted on the vertical section of the vacuum, which you can use to see hidden dirt when cleaning dark places.
This vacuum comes with many other attachments, such as a dusting/upholstery cleaner, brush cleaner, a telescoping wand, and a crevice tool, which makes this vacuum ideal for multipurpose cleaning.
Compared to other vacuums with similar features as this one, the hoover WindTunner is by far cheaper and easier to use.
---
Last Amazon price update was: December 3, 2023 2:53 am
3. Miele Compact C1
The Miele Compact C1 vacuum is manufactured by Miele, a German brand known for producing the best vacuum cleaners in the market today. This brand has more than 200,000 searches on Google which means its very popular and widely known.
Also, this vacuum comes with a 7-year warranty, which is a unique offer, unlike most companies which give a one-year warranty.
Its Vortex motor cleans in 6 stages, which makes the air cleaning and filtering process highly effective, leaving your rug new and fresh.
It has an on/off rug to the floor, which will help you to control the power need to clean different surfaces and rug materials.
It comes with additional attachments, such as rug/floor switch tool, dust brush, upholstery tool, and crevice tool, which further makes it more effective.
Miele vacuums are known to be the quietest, which means you do not have to worry about causing noise pollution.
---
4. Oreck Commercial XL2100RHS
The Oreck Commercial XL2100RHS is an upright vacuum cleaner which is powerful, high-speed and highly recommended for both rugs and floors.
Unlike most other vacuums that are usually heavy, this one is lightweight (it weighs 9 pounds), and it is short, which makes it easy to hand with your hand without straining too much.
This vacuum cleaner works similar to the Dyson DC33, and they both have the same features, which means you can buy the later in case you do not like the Oreck option.
This vacuum cleaner is a "commercial" model, which means it gives you the flexibility to upgrade it to a better version by adding extra attachments that you can buy separately.
The only cons to this vacuum cleaner are that it does not come with attachments, and it is noisy. You will also have to swap its belts every twice a year, which might be costly for some people.
---
$59.99
in stock
5 used from $49.29
as of December 3, 2023 2:53 am
$79.99
in stock
14 used from $50.55
as of December 3, 2023 2:53 am
$118.43
in stock
10 used from $68.58
as of December 3, 2023 2:53 am
5. Shark Rotator Upright Vacuum
The Shark Rotator is both an Upright and canister vacuum which makes it the best choose for deep cleaning Persian rugs.
It has a HEPA filter system which effectively such all dusts, allergic pollutants and debris out of your Persian rug.
The floor to rug switching system will help you the best choice when it comes to cleaning your rugs.
It comes with other extra attachments such as a crevice tool, pet power tool, and a powered lift-away, which can help you reach high and far surfaces like the stairs, windows, and curtains.
It comes with reliable and beautiful color schemes which make it the best choice for people who love nice-looking things.
---
TIPS TO REMEMBER WHEN USING OR CHOOSING BEST VACUUM FOR ANTIQUE PERSIAN RUGS
1. Direction of cleaning
The motion of the movement you vacuum with can easily damage your Persian rug. To avoid that, always make sure you move in the direction that the pile or weaves in the rug are supposed to lie. That means do not move the piles in the opposite direction to avoid disrupting their pattern, which might cause bumps, creases, and wrinkles.
2. Back Vacuuming
Most people vacuum the top side of the rug and assume the work is complete. You must vacuum the back also to suck all dust and dirt from the Persian rug.
3. Complete drying
Make sure you leave your oriental rug completely dry to keep away pungent smells, which might be more expensive to eliminate, especially in antique rugs.
4. Professional cleaning
Make it a habit to have your Persian rug professionally cleaned at least twice a year to make your cleaning process a lot easier.
5. Caution tips
The fringes of your Persian rugs can easily be sucked up, especially those along the edges, because they are handmade. Make sure you use attachment nozzles covered with nylon stocking when vacuuming to avoid that. You can also prevent this from choosing a vacuum with a rotary brush, which turns off automatically when something is trapped.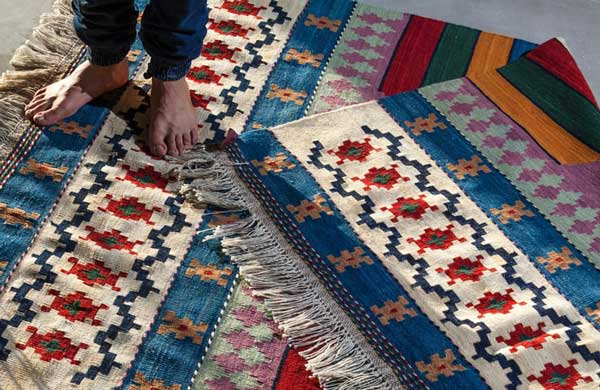 ---
BEST VACUUM FOR ANTIQUE PERSIAN RUGS FAQ'S
Can you vacuum Persian rugs?
Yes, you can, and it is highly recommended, especially for oriental rugs put in high traffic areas. The high traffic can quickly destroy the natural fibers of the rug. The vacuum helps to reduce that packing down effect, prolonging the lifespan of the rug. Check out these tips for maintaining oriental rugs.
How do I know my Persian rug is valuable?
You can turn the rug in the upside direction. If you notice any irregularities on the sticking pattern, that means its handmade. Highly valuable Persian rugs are handmade and highly expensive. See other ways to tell if a Persian rug is useful in that post.
How do you clean an old Persian rug?
A Canister cleaner vacuums or upright vacuum with a beater bar that can be turned off are the best choices to go for with antique Persian rugs, also known as oriental rugs.  Not all upright vacuum cleaners are ideal, especially the newer models with a harsh rotating rush, which can easily damage your rug.
---
Last Amazon price update was: December 3, 2023 2:53 am