What is the best rug pad for hardwood floors? In other words, what to put under rugs on hardwood floors to stop slipping, folding and curling of the rug into bumps.
Area rugs protect hardwood floors by keep away stains, discoloration and rotting caused by water, dirt debris and other things.
When small area rugs are placed on hardwood floors without any furniture or heavy object to anchor them down, they tend to migrate from one place to the next. This is very dangerous because it can result in slip/fall accidents.
Therefore you need a rug pad or carpet pads for area rugs on hardwood floors to safely secure the rugs and help to keep them in place.
You can read the related posts below;
---



BEST RUG PAD FOR HARDWOOD FLOORS
This Mohawk Home Felt Rubber All Surface Rug Pad is the best rug pad for hardwood floors. Its also the most recommended choice among our readers.

Slip resistant: It has a double-sided backing for maximum grip. The rubber side holds on to the floor providing a non-skid surface while the felt side perfectly attaches to the rug backing.
Plush feel: The rug pad is ¼ inches thick a property which helps to add cushioning and warmth to the under feet.
Material: You will discover that a rug pad made from a combination of felt and rubber is one of the most recommended choices for hardwood floors which makes this a great option.
Country: This rug is made in the USA which means the needs of many households are featured in the process of its manufacture. Check out the countries which make the best rugs in that post.
Popularity: It has close to 3000 customer reviews on Amazon and its described as an Amazon best seller and Amazon choice which means people who have tried it have been pleased with the results. Check out the example review below.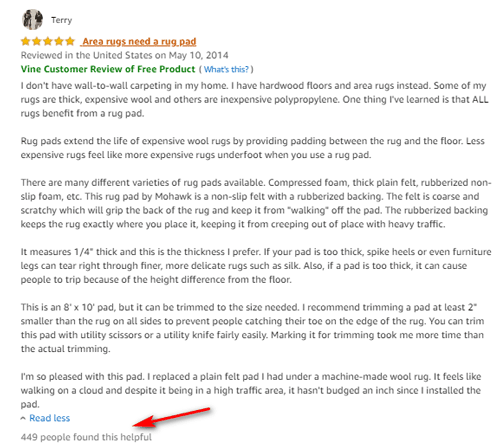 ---
WHY DO YOU NEED A BEST RUG PAD FOR HARDWOOD FLOORS?
#1 Safety
A rug pad will eliminate rug slipping and rug migration movements on hardwood floors. It will help to keep the rug in place making sure that it lays flats on the floor at all times. A rug with folds and bunches is a safety hazard especially in homes with dogs, babies and elderly people. Those folds can easily get trapped on their feet causing serious fall accidents. Additionally, a moving rug can result into high impact slip falls. Therefore, a rug pad will make your home safe by keeping the rug in place at all times.
Related posts
#2 Prevent damage
A rug pad will protect both the rug and floor from any damages. Some paints or sealants used on the floor can damage the rug fibers is the rug is placed directly on the floor without a rug pad to act as a protection barrier. Similarly, spills and dirt debris falling on the rug can easily damage your floors. Since the rug pad will cover the floor, it will shield the floors from any direct damages from the rug.
#3 Cushioning & Sound proofing
Additionally, a rug pad placed on high traffic areas will provide cushioning and sound proofing protection to your floors. All the pressure which would have been directly applied to the floor, will first be absorbed by the rug and its rug pad. That way wear and tear on the floor is reduced, hence prolonging their durability.
---
3 FACTORS TO CONSIDER WHEN CHOOSING BEST RUG PAD FOR HARDWOOD FLOORS
#1 MATERIAL
Best rug pad materials
The most recommended rug pad materials for hardwood floors are;
Felt
100% Natural Rubber (I am not talking of synthetic rubber here)
A Combination of Felt & Natural Rubber
Jute is also an ideal choose only that it is very expensive and had a weird smell which might make you start looking for ways to get pungent smells out of your rugs. The smell can also attract rug moths resulting into more costs.
Wool is also a recommended choice especially in homes with allergy sufferers because it is water resistant, durable and also safe for hardwood floors.
Rug pads materials to avoid
Rug pads are made from different materials. Some of these materials are low-cost but they are highly treated with chemicals which might end up damaging your wood floors. For example, avoid rug pads made from these three materials:
Vinyl
PVC (Polyvinyl Chloride)
Latex rubber
The problems with Vinyl and PVC materials is that they are made from petroleum-based chemicals. This chemical lacks the ability to absorb or release moisture. When the rug sweats all that moisture is trapped on the space between the rug pad and the floor which ends up rotting your wood floors.
That material will also leave residue on the floor. Getting out that residue will make you to end up with permanent scratches and stains on your wood floors which can be very costly to correct.
Synthetic Latex rubber is made from a chemical known as SBR (styrene-butadiene) which is made from clay fillers. The clay will eventually breakdown leaving residue which will cause permanent stains in your wood floors.
PRO TIP: When it comes to rubber what you want to avoid is synthetic latex rubber. You can only choose a rubber rug pad when you are sure that its is made from 100% rubber or a combination of felt and rubber material.
#2 THICKNESS
The ideal thickness will depend on the size of rug you are using as explained below;
Small rugs and runners: A small rug will tend to have the most movement.  You need a thin rug pad between ¼ to 3/8 inches. Too thick rug pads will exaggerate the size of the rug and also make it so heavy leading to damage on its fibers which can't handle that too much pressure. A thick rug pad will also make the rug high in height increasing the possibility of trip and fall accidents.
PRO TIP: Natural rubber material is the best choice for such rug pads because it comes with a non-skip property which gives the perfect grip to hold the small rug down perfectly.
Large rugs: These rugs can easily stay in place or get anchored down by furniture. There is nothing wrong with choosing a thick rug pad more than ½ inches with such rugs.
Another factor you should consider when deciding on the ideal thickness is how thin or thick a rug is;
Thin rugs such as Flat-weave rugs and low pile height rugs will require thin rug pads around 1/8 to ¼ inches.
Thick rugs like plush rugs and high pile height rugs will need thick rug pads around ½ inches or more.
#3 SIZE
You do not want a rug pad which is larger than the rug such that it will show up outside the rug edges. You also don't one which is too small such that it does not protect the rug on most delicate areas.
The general rule of thumb is that you should buy a rug pad which is 1 inch smaller than the rug on all the four sides as shown in the sizing estimation below.
---
OTHER BEST RUG PADS FOR HARDWOOD FLOORS
GORILLA GRIP RUG GRIPPER PAD


This rug pad had the following properties which make it a great choice for hardwood floors;

• Made in the USA
• It is durable
• It is long-lasting
• It is reversible which means it can be used from both sides.
• It is vacuum-friendly
• Very easy to install since it comes in pre-cut sizes and shapes.
• It has more than 14,000 customer reviews on Amazon making it best seller.


MOHAWK HOME ALL FLOORS RUG PAD


These are the properties which make this rug pad the best choice for hardwood floors;
• It has a plush feel due to the high 1/4 inches thickness to add more cushioning and warmth to your feet.
• Does not have a latex backing which makes it ideal for all types of floors.
• Made from 100% felt which is a recommended rug pad material for hardwood floors.
• Made in the USA, which is a proof of its durability and high quality.


GORILLA GRIP HARDWOOD FLOOR RUG PAD



These properties make this rug pad an ideal choice for hardwood floors.

• It is highly customizable to any shape and size by trimming with scissors to fit any existing home décor designs.
• Made from 100% felt material which is safe for hardwood floors and its also hypoallergenic, mold, mildew and moth resistant.
• Comes with a 10-year warranty and support guarantee which gives you enough time to test the durability and quality of this rug before deciding to keep it permanently in your home.
• It is highly durable and strong to withstand daily wear and tear tension even when placed in high traffic areas such as the kitchen, outdoor spaces and entryways.


---
ALTERNATIVES TO BEST RUG PAD FOR HARDWOOD FLOORS
Rug Grippers & Carpet Pads/tape

Rug grippers are placed below the corners of the rug to keep them from folding or bunching up forming bumps and folds on the rug. This specific X-Protector Anti-Curling Rug Grippers are safe for use on hardwood floors because they are easy to install and they shall not leave any residue.
Shelf Liners
Some experts recommend the use of a non-skid Rubber Shelf Liner as an alternative to a rug pad.
However, you have to note that this should be only a temporary solution because the liner cannot be as effective as a rug pad for several reasons, such as;
Firstly, it is made from a lightweight material, which means it will solve the slipping problem but will not add other benefits like cushioning and wood protection.
Secondly, it is a cheap and economical solution, so it will not help you avoid all the problems caused by cheap rug pads, such as discoloration, stain residue and color shed.
---
FAQ'S- BEST RUG PAD FOR HARDWOOD FLOORS
Are Rubber backed rugs safe for hardwood floors?
Rubber backed rugs are made from chemicals which might end up discoloring or staining your wood floors over time. Some rubber is made from cheaply imported material which will rot your wood floors since it does not allow free air circulation. If you rug has a rubber backing, make sure you place it on of these recommended rug pads for hardwood floors before you place it on your wood floors.
Are area rugs bad for hardwood floors?
A rug with the wrong backing and rug pad is what is bad news for your hardwood floors. As long as you choose one these safe rugs for hardwood floors you should not worry about running into permanent damages requiring too much money to refinish or repair. A rug can protect your wood floors in many ways like providing safety, cushioning, becoming a barrier preventing stains from directly getting into the floor among others.
How thick should a rug pad be?
You need a thin rug pad between ¼ to 3/8 inches for small rugs and runners. Thick rug pad more than ½ inches are ideal for large area rugs. In other words, flat-weave rugs and low pile height rugs (thin rugs) will require thin rug pads around 1/8 to ¼ inches, while plush rugs and high pile height rugs (thick rugs) will need thick rug pads around ½ inches or more.
What rugs are safe for hardwood floors?
Rugs which are safe for hardwood floors are waterproof or water-resistant, they have the right backing, such as felt (avoid latex rubber backing), and are made from durable rug materials such as wool and polypropylene. Find more detailed explanation on his guide on what rugs are safe for hardwood floors.
How long before you can put area rugs on new hardwood floors?
The wait time will depend on several factors. For example, if you used water-based paint then you wait for 24 hours while oil-based paint takes more than 2 weeks. Read other factors on this post on how soon after refinishing wood floors can you put rugs down?